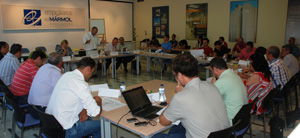 An informal meeting took place today in the headquarters of the Asociación Provincial de Empresarios del Mármol (APEM), Maceal to review the draft decree to "regularise" houses in Andalucia. Participants included 7 mayors of the Valley of Almanzora, as well as various representatives of promoters, citizens, ecologists, architects, lawyers, local authority members, notaries, planners and other social agents.
We had a constructive meeting with various representatives from social, political and economic spheres who came together to seek a way out of the maze of judicial insecurity and urban chaos which has blighted the area. We exchanged opinions on the draft decree in a clear an open way. We believe that this is the first time that such an exchange has taken place and we hope that it will be repeated in other parts of Andalucia just as this will be the first in a series of meetings that we are planning to hold.
We think that whilst there are some beneficial aspects within the draft, the truth is that they are very limited. It is nothing more than a panacea. In reality it only helps some situations but further complicates others without making the profound changes necessary that would require an amendment to current planning laws at regional and state level.
At its heart this is an invoice for the homeowners without taking into account that many of them have already paid the bill. Neither does it offer immediate solutions to the most serious problems such as legal proceedings and lack of services. This decree needs to provide interim measures until the final situation of each house is known.
There was a wide range of opinions from the participants. However, we believe that the majority sentiment is that this decree will not solve the problems in the Valley of Almanzora.
In our opinion the most important thing is not the decree rather the fact that this meeting took place. We have started the process of collaboration between interested and affected parties in the area. We are going to establish a working party and in the short term we are going to present our request for amendments to the decree to the Junta de Andalucia.
Big problems require big solutions and this draft decree is far from being the big solution required.
AUAN Press Release