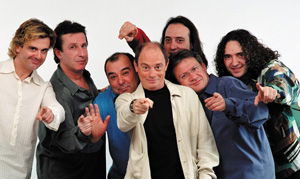 THE second 60s and 70s Festival will be held in Vera on August 13, with the performances of Formula V, Los 3 Sudamericanos and Karina amongst others.
The festival will be at the local bullring from 9.30pm with some of Spain's best-known songs of the era over five hours.
Money raised will go to the local brotherhoods and football club.
Tickets are available from Vera Convent, Vasary Jewellers in Mojacar, Garrucha, Cuevas del Almanzora and Huercal Overa, and Hiper Ocio in Albox.
Formula V are best known for songs such as 'Eva Maria', 'Cuentame' or 'Vacaciones de Verano' the 'songs of the summer' back in the sixties. Meanwhile, Los 3 Sudamericanos have had 80 records on the market and hits such as 'Guantanamera' or 'Corazon Contento'. One of the most popular songs of the era was Karina's 'El Baul de los Recuerdos'.