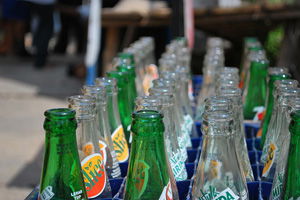 A NEW law could bring back the old practice of returning empty bottles to get back a deposit.
A draft Waste Materials and Ground Pollution bill that has already received the go-ahead from Spain's Senate could open the door to this new – but familiar to many – take on recycling. Environmentalists welcomed the scheme, although recycling firms are already criticising it as unworkable.
Makers of bottled drinks pay a deposit to the operator of the system for each unit put on the market.  Retailers acquire the product from manufacturers, paying a deposit on each bottle or container that is subsequently passed on to consumers.
It would then be up to the consumer to return the bottle and get the deposit back. Should they choose not to, the money would remain in the loop and help to finance the project.
The new proposals would only generate uncertainty, claimed Melchor Ordoñez, president of Ecoembes which recycles Spain's bottles and plastics.  "The law should retain the present system, which works," he declared.
It was hard to understand the reasons for introducing a system entailing problems for the public as well as small retailers, Ordoñez claimed.
In addition, it would cost around €600 million to run, according to his calculations, and those wanting their money back would need to produce a receipt.
Defenders of the scheme point to Holland, Scandinavia, Canada, Australia, and the United States where it is already in place.  Above all, they cite Germany where consumers return 98 per cent of drinks' bottles against a deposit.
Ecoembes remained unconvinced.  "We are expecting preliminary studies to discard the idea as unviable.  The UK and France have already rejected it as too expensive," a spokesman said.