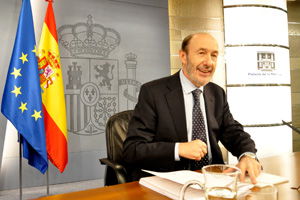 ALFREDO PEREZ RUBALCABA, Spain's Deputy Prime Minister and Interior Minister, announced his resignation from the government to focus on running for Prime Minister in the 2012 general elections.
Last week he was officially nominated to head the ticket for the Socialist Workers Party or PSOE. This follows Spanish Prime Minister Jose Luis Rodriguez Zapatero's decision in April not to run for a third term in office, endorsing Rubalcaba as his successor.
The son of an Iberia pilot, and from conservative family, Rubalcaba turns 60 this month. Born in Solares (Cantabria) he has been a member of the Socialist party for 37 of them beginning during the tenure of the then Prime Minister Felipe Gonzalez.
But he admits that if it was the Franco regime that pushed him into socialism. "If it hadn't been for Franquismo I think I would have been a good professor," he said.
In June last year, prior to his appointment to Deputy Prime Minister, a reporter for Spanish daily El Pais asked Rubalcaba if he wanted to become Deputy. "It makes me laugh when people ask me this. Return to La Moncloa (Spain's Downing St equivalent)? Good Lord!" He said. "I've already been there and I don't want to return."
"When we won the elections (2008) I wanted to retire. I wanted to 'die' a dignified death. I don't think it is easy to go from a lifestyle like this – with 14 and 15 hour days, to not doing anything. So I imagined a gradual decompression process, like scuba divers do… it didn't work out and now I no longer think about it. I have signed up for four years," he said.
But why this former chemistry professor – who in 1975 completed the 100 metre dash in 11.2 seconds at the national university championships – would want to run a race he is unlikely to win remains a mystery to many.
The Spanish local and regional election in May saw centre right Partido Popular (PP) win a landslide victory over the governing PSOE. Polls place Mariano Rajoy's PP 10 to 14 points ahead of PSOE, favourite to win next year, giving the party its second chance to decades of Socialist rule.
Although Zapatero dismissed repeated calls from the PP for early elections,  mounting pressure could force the government's hand to bring them forward to October or November . With a 21 per cent unemployed rate – double the EU average – and a property market which has seen prices fall 20 per cent in three years after a decade long bubble burst, the determining issue at the general election is likely to be the economy.
Popularity polls suggest Rubalcaba is a more respected politician than Rajoy, largely due successes against Basque terrorist group ETA. But perhaps he just happens to be a member of the unpopular party. Meanwhile, Public Works Minister Jose Blanco has been appointed government spokesperson and current Interior Minister Antonio Camacho will be Interior Minister until the end of this term.
By Alfredo Bloy
Photo credit: lamoncloa.gob.es