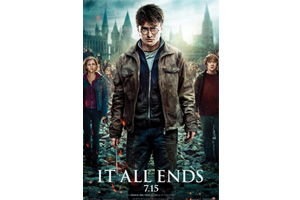 THE end of a saga which has marked a generation. Out on 15th July is the much-awaited final instalment of the Harry Potter saga, 'Harry Potter and the Deathly Hallows. Part II'.
In the epic finale, the battle between the good and evil forces of the wizarding world escalates into an all-out war. The stakes have never been higher and no-one is safe. But it is Harry Potter who may be called upon to make the ultimate sacrifice as he draws closer to the climactic showdown with Lord Voldemort.
The film sees Daniel Radcliffe, Rupert Grint and Emma Watson reprising their roles as Harry, Ron and Hermione, but the star-studded cast includes Helena Bonham Carter, Jim Broadbent, Robbie Coltrane, Ralph Fiennes, Michael Gambon, John Hurt, Gary Oldman, Alan Rickman, Maggie Smith, Julie Walters, Mark Williams and many others.
The film has the same director of as the three previous instalments, David Yates, and is produced by David Heyman, David Barron and J. K. Rowling.
Throughout the world, fans will be flocking to see the film with mixed emotions, because although they are all keen to see the film, they know that this is the last chance they will have to feel the excitement and expectation which has come with each new book and film.
Critics who viewed the première report that fans, whatever their age, will not be disappointed and some have even gone as far as to say that the film is better than the book, although some elements are missing.
Don't miss the chance to find out. It all ends here.
Film review by Gabrielle Devon