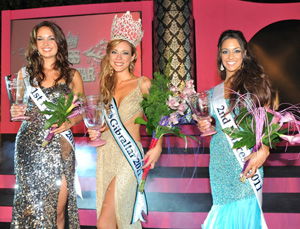 A 23-YEAR-OLD bank clark, Michelle Gillingwater Pedersen, was crowned Miss Gibraltar 2011. Her mother Louise is a former Miss Gibraltar herself, winning the title 29-years ago in 1982.
 They are the second mother and daughter to have achieved this in the history of the pageant which began in 1959. The first were Grace Torres (Valverde) in 1966 and her daughter Michelle in 1992. Michelle works as a bank clerk and speaks English, Spanish and Danish; she will represent the country in London at The Miss World in the autumn.
Runner Up and first Princess was 23-year-old secondary school teacher Jessica Baldachino. Second Princess was 24-year-old primary school teacher Chantal Canepa.
The judges were former Miss England (2008) Laura Coleman and the current Mr England Vaughan Bailey, Sky News at 10 presenter Stephen Dixon, and Modelling Agents Sissy Best and Aidan Jean Marie.