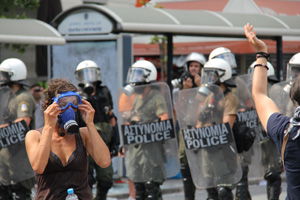 HOLIDAY bookings to Spain from one leading UK company have soared 15 per cent. The shot-in-the-arm shortly before the main summer holiday season follows a decision by hundreds of would-be travellers in Britain to turn their backs on Greece following recent civil unrest with police and protesters clashing in Athens.
Airports and ferry terminals in Greece have also been affected, adding to the number of potential visitors deciding to second-guess Greece as their destination of choice this summer.
The Co-operative Travel, a UK-based company, in an analysis of more than 130,000 holidays booked, found British holidaymakers put off by media coverage of the Greek problems, have turned not only to Spain, but also to two other firm favourites.
As a result their bookings to Portugal have risen 20 per cent, while Malta witnessed a massive 32 per cent in bookings.
Mike Greenacre, managing director of The Co-operative Travel who carried out the survey, said: 'The total holiday market is holding steady and in recent weeks has shown signs of good growth.
'However, events have really shaken public confidence in certain countries. People don't want to gamble with their holiday and North African destinations and now Greece have suffered as a result.'
However, a spokesman for Thomas Cook said no noticeable reduction in bookings to Greece had been recorded, and that the Greek islands were still very popular.