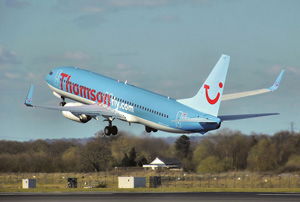 FROM July 28, Thomson Airways will become Britain's first airliner to use biofuel when they fly between Birmingham and Palma de Mallorca.
This announcement follows on the back of Dutch Airline KLM's world's first scheduled biokerosene-powered flight between Amsterdam and Paris. By using a 50/50 cooking oil-Jet-Mix, these airlines will be reducing their carbon footprint considerably. Used cooking oil will be converted into hydroprocessed esters and fatty acids (HEFA). 
Thomson will be operating weekly flights to Spain using biofuel will begin in September for a year, switching to Birmingham-Alicante for the winter schedule. KLM also plans to launch scheduled biokerosene-fuelled services between Holland and France in September.
"As sustainable biofuels become more commercially viable, Thomson Airways plans to expand its use of sustainable biofuels across its fleet over the next three years, " said Thomson managing director Chris Browne.
Using biofuels will help Thomson meet owner TUI Travel's plan to reduce the carbon emissions from its airlines by six per cent from 2008 to 2014. The EU Commission, European airlines and biofuel producers recently signed-up to produce two million tonnes of biofuel for aviation by 2020.
By Nicole Hallett