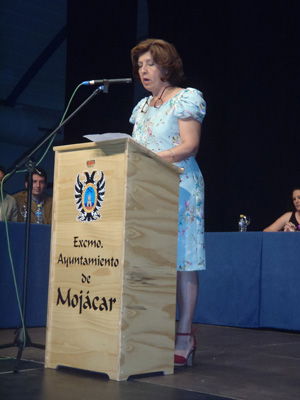 THE long awaited swearing in ceremony for Mojacar's mayor and (most) councillors was finally carried out at The Artizan centre.
After almost a month's delay due to court proceedings concerning voting irregularities brought by the losing parties in the recent local elections which proved unsuccessful the people of Mojacar eventually have their council in place.
After a speech by the Secretary of the Ayuntamiento all of the councillors that were present performed the Spanish version of the US 'swearing allegiance to the flag' led by Mayor Rosa Maria Cano and the rest of the PP seat holders followed by the opposition councillors before the Mayoress gave a keynote speech outlining the next four years.
The event was followed by the obligatory free for all at the bar and the buffet. Conspicuous by their absence were Angel Medina of the CE Party and Diego Garcia and his other two councillors of UM 10 who boycotted the event after trying to have it declared null and void as it was not held in Mojacar's Town Hall.
Meanwhile, after a seven-term socialist rule, Carboneras has a new mayor, Salvador Hernandez (GICAR), thanks to a pact with the Partido Popular, whose leader, Salvador Alarcon, will be the first deputy mayor as well as councillor for urban development and public works. The event in Carboneras took place with no problems, with four PP, four GICAR and five PSOE councillors.
By Richard Shanley