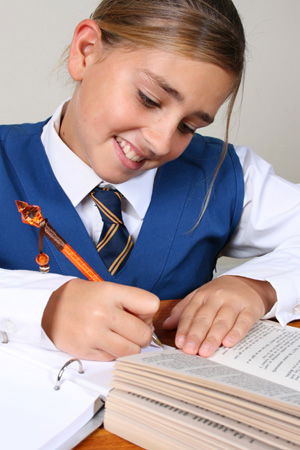 SCHOOL uniform?  Good, say parents.  Not so good, insist educational psychologists. Uniforms did families "a service" said Gloria Gratanos, headmistress of a Barcelona school.  They were convenient both for pupils and parents and symbolised seriousness and unity.
Wearing uniform encouraged children to take care of their clothes, to hand them down to siblings or other children at their school, argued Gratanos. It also brought it home to pupils that they went to school to learn, not to dress fashionably.
Not so, maintained the dean of UNED, Spain's open university, Professor Lorenzo Garcia.  There were objective reasons for agreeing that uniforms saved money, he conceded, but they restricted self-sufficiency "because young people develop individuality through their clothes."
"Respect for what is different is another facet of education," the professor said, "and we dress differently because we are all different." Scientific investigation had yet to prove that that wearing school uniform contributed to better academic performance at school, he added.
Despite Lorenzo Garcia's views, the Marius Torres primary school in L'Hospitalit is Cataluña's first state school in the post-Franco era to bring back compulsory uniforms. In a bid to "bring dignity to the school and improve results" pupils will now wear a uniform resembling those worn at private and state-aided schools.
In Barcelona teaching experts agreed that uniforms had no academic impact. "But in younger children they can have a positive effect, especially at schools in deprived neighbourhoods," pointed out Victoria Gomez.
"As an isolated measure they serve no purpose," said Xavier Marti.  "But in some environments they introduce a sense of sameness, which eradicates social differences at an age when these begin to assume a certain importance."
Despite representing parents, Jesus Maria Sanchez, president of the CEAPA parents' association came down heavily on the side of the anti-uniform faction. Uniform prevented young people from developing their personalities and ability to make choices, he said. Social inequality between pupils could not be solved merely by dressing them the same.
Sanchez believed that pupils who did not wear uniform learned earlier "to respect differences and understand reality." "We are on the side of diversity in all its form," declared Sanchez, who maintained that diversity was sacrificed when pupils were obliged to dress identically.
Sanchez also criticised uniforms for forcing girls into skirts and boys into trousers: "To my mind that is sexist and antiquated." Sexist, antiquated and with little impact on academic achievement though they may be, most cash-strapped parents want uniforms.
So, surprisingly, do some pupils.  "I love wearing something new to school, to show my friends.  But it would great just knowing what I had to wear every day," said 14-year-old Alicia Gonzalez.  "And mum would like it, too."
By Annie Maples