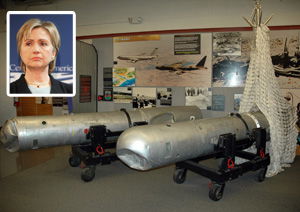 THE mayor of Cuevas del Almanzora, Jesus Caicedo, has asked the government to take advantage of US Secretary of State Hillary Clinton to Spain to discuss the removal of radioactive soil from Palomares.
In 1966, two US aircraft collided during a mid-air refuelling operation over the Mediterranean. Of the four Mk28 type hydrogen bombs one of the planes was carrying, three were found on land, near Palomares. Two detonated on impact, resulting in the contamination of a two square kilometre area by radioactive plutonium. The fourth, which fell into the sea, was recovered intact after a two and a half month-long search.
The clean-up depends on a decision from the USA, according to the Energy, Environment and Technology Research Centre (Ciemat). Decisions must be made as to how the soil will be removed and where it will go once it has been taken to the US.
Caicedo says he will keep on demanding action from the Spanish government for "as long as it takes". The Local Entities Committee in the Senate has approved a motion from Caicedo and the Partido Popular which demands that dates be given for the clean-up.