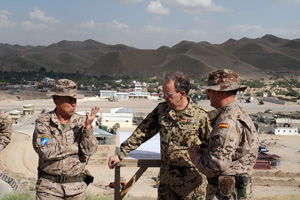 PLANTING a roadside bomb in the path of a Spanish convoy in Afghanistan currently stands at €130. This is the amount that the Taliban are prepared to pay the criminals who carried out the latest attacks on Spanish troops, according to military sources.
There are 1,000 Spanish soldiers stationed  at the Qala-i-Naw base in Badghis province in north-west Afghanistan, held to be less dangerous than the eastern provinces bordering Pakistan.
Concepts of safety in Aghanistan are relative, however, and on June 26 Sgt. Manuel Argudin Perrino and female soldier, Niyireth Pineda Marin, were killed when their armoured vehicle triggered a roadside bomb (IED). They were on the Lithium route, a highway highly vulnerable to attacks like these, said military sources, with convoys at the mercy of an enemy scattered over a wide area.
Afghanistan was literally a powder-keg after three decades of uninterrupted war, the same sources explained.  Only last week Afghan police in Herat province – the location of another Spanish base and supposedly "safe"  – seized a thousand mines and five tons of explosives from a trailer.
"To curb IED attacks it is imperative to cut the supply lines for explosives.  That's not easy, because they can even be obtained from the phosphates in fertiliser," the source explained. Insurgents in Badghis – regarded as a "model province" – are former mujahidin commanders, smugglers and highway bandits who sell their services to the best payers.  They frequently play a double game with the occupying Nato forces and the Taliban.
Attacks on the Spanish troops have increased this summer, although locals appreciated their reconstruction programme. "They should hurry things up before the mission ends and leave behind good memories. Fighting demonstrates nothing," said a Badghatis businessman.
Photo credit: Isafmedia