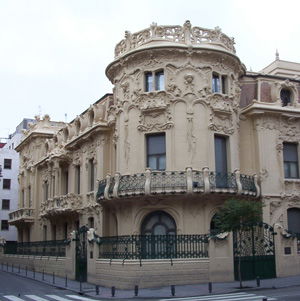 The SGAE Madrid headquarters was raided by police investigating alleged embezzlement of €400 million in digital royalties.
 The investigation is focussing on digital royalties received for foreign artists which were diverted to personal accounts in Switzerland. SGAE president Eduardo 'Teddy' Bautista and eight members of the board of directors were arrested.
Police sealed off the offices and seized documents, mobile phones and computers, as well as raids of 17 private properties. The alleged mastermind in this complex case is Jose Luis Rodriguez Neri, Managing Director of SGAE-owned Sociedad Digital de Autores y Editores (SDAE), a company set up to protect the digital royalty rights of its members.
On Monday night National Court Judge Pablo Ruz remanded Neri into custody charged with misappropriation of funds and fraud with the option to be released upon payment of €300,000 bail. Ruz suspects SGAE president Teddy Bautista was fully aware of Neri's alleged fraud.
Others charged were: the SGAE Director General, Enrique Loras; Eduardo 'Teddy' Bautista; Finance Director, Ricardo Azcoaga. The investigation also involves Microgenesis one of SDAE's subcontractors.
Microgenesis Director Rafael Ramos was charged and remanded into custody with the option of release for €150,000 bail.
The main shareholder of Microgenesis, Elena Vasquez (Rafael Ramos' girlfriend), Finance Director Celedonio Martin were charged and released. .
The raids follow a 2007 complaint lodged by Internet Users Association, Spanish Association of small and medium size IT and New technologies Companies (APEMIT) and Spanish Catering Association Vicitims of Digital Royalties (VACHE) with the Public Ministry.
On June 29, 2011 it was revealed the complaint was being investigated by the Audiencia Nacional (National Court) which suggested irregularities in the SGAE's handling of its finances.
In a statement SGAE said it was open 'for business' as normal to clients and members. It claims the investigation only involves alleged fraud by SDAE and Microgenesis and not SGAE's other operations.
On July 1 the Spanish Internet Users Association demanded the resignation of Culture Minister, Angeles Gonzalez-Sinde for not ensuring the SGAE had been audited and for being "judge and party" to the process.
The irony lies in the fact private institutions such as the Sociedad General de Autores y Editores (SGAE) exist to protect the rights of musicians and filmmakers to ensure they receive their royalties, especially in the current climate in Spain where internet piracy is rife.
But this is not the first time such organizations are in hot water.
Two recent examples include when in 2009 Sony's assets were seized in Mexico amidst claims of piracy. Also in 2009 the Canadian Recording Industry Association was sued for $6 billion for commercial music piracy.
The SGAE claims to have more than 100,000 members, and describes its primary aim as being to "protect and distribute the remuneration of artists for the use of their work."
By John Jackson