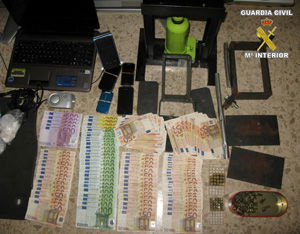 EIGHT people were arrested in Alicante and Valencia, believed to be part of a group that trafficked drugs destined for Marina Alta, Alicante and Safor (Valencia).
Operation 'Placeta' began in March when the Guardia Civil learned of the possibility of an organized group of people distributing drugs in recreation areas of towns. After three months of research, monitoring objectives, control activities and analysis of different sources, the arrests were done in three phases.
Two homes were searched and three people arrested in the first phase, six searches and four arrests in the second and the final two people were arrested in the third phase. The group was based in Gata de Gorgos and the leader established contacts for both the supply of the drugs as well as their distribution to retailers.
Of the eight arrested, six were men and two women. All were Spanish nationals aged between 27 and 43.