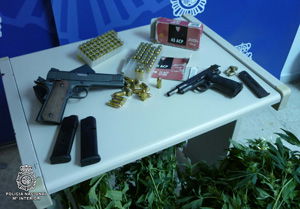 ALMERIA National Police arrested a 24-year-old man charged with illegal weapons possession, aggravated robbery and drug trafficking. The investigation began when a resident of Los Molinos reported finding a bullet in one of the doors in his home after hearing a loud noise.
The police were able to pinpoint where it had been shot from, and identify the shooter, who had been handling the weapon at the time. They entered his home to arrest him and located two guns, ammunition and more than 70 marihuana plants.
One of the guns had been stolen from a former Guardia Civil during a robbery at his home in Huercal de Almeria in March.