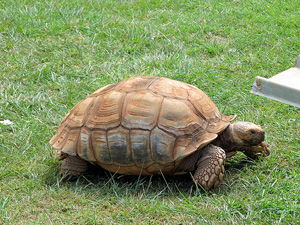 THE Mayor of Cuevas del Almanzora, Jesus Caicedo, announced that he will attempt to prevent the compulsory purchase of more than 480 hectares to create a habitat for the Spur-Thighed Tortoise.
The plan came about as compensation for the AVE high speed train tracks invading the area. Since it was announced in May, the town hall and those affected have pointed out that it makes no sense to take over such as large area of what is currently agricultural land, in exchange for 1,400m2 of land on the Sierra de Almagro, declared a Site of Community Importance.
Many of those affected have large companies which employ local people. They have appealed the plans and brought in lawyers to prevent the reserve being located in this spot where around one million daily jobs would be lost.