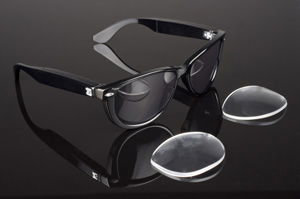 THERE are sunglasses on the market that allow the user to stream video on any social-networking or video-sharing site in real-time. ZionEyez glasses record what is happening and the use a Bluetooth connection to the user's mobile phone to upload it to Facebook.
The camera on the frames is so small it is impossible to see and the battery lasts for three hours before needing recharging. They have 100 per cent UVA/UVB and tinted lenses, although these can be replaced with prescription lenses if desired. ZionEyez also has an 8GB memory card and a USB port for charging and downloading images onto a computer.
These video-recording sunglasses are a major advancement because "many recorded video streams are short, largely because it is uncomfortable for users to continuously hold their cameras up for longer than a few minutes," according to ZionEyez.
"Imagine yourself recording exactly what your "Eyez" see, whether it be worldly travels or a college lecture, no memorable event will be lost," the U.S. firm boasts. "No other product in existence can deliver you such a first person video recording experience."