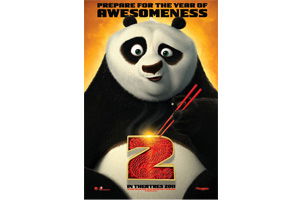 In Kung Fu Panda 2, Po is now living his dream as The Dragon Warrior, protecting the Valley of Peace alongside his friends and fellow kung fu masters, The Furious Five. But Po's new life of awesomeness is threatened by the emergence of a formidable villain, who plans to use a secret, unstoppable weapon to conquer China and destroy kung fu. He must look to his past and uncover the secrets of his mysterious origins; only then will Po be able to unlock the strength he needs to succeed.
Kung Fu Panda is a great continuation of the series, which Dreamworks has already announced is planned to have five instalments. Not only is there a star-packed cast lending their voice talents to the production, but the story has a heart and some scenes almost move you to tears, although it is full of humorous moments.
There is more action than in the first film and the editing has greatly improved. The new comers to the cast are Gary Oldman who we already know makes and excellent villain even when you can't see him. Jean-Claude Van Damme only has a few scenes, but does a great job.
The original cast with Angelina Jolie, Jackie Chan, Seth Rogen, Lucy Liu, Jack Black, Dustin Hoffman and other excellent talents, do not let the second instalment down.
This is a fun film for the kids which will also be enjoyed by the rest of the family, especially those who fell in love with Po the first time around.