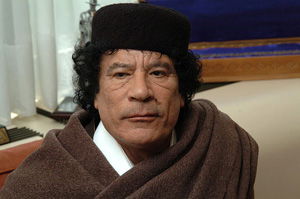 THE Arab League, a vital ally in the Libya operation, is having second thoughts.  NATO, whose sole remit was to protect civilians, nevertheless killed 24 in botched attacks last week.  Its unofficial remit included ousting Gaddafi but this ultimate goal has so far eluded the West, less because the tyrant is impossible to budge than the fact that the superbly equipped and trained Nato forces are seemingly incapable of budging him. The Arab League's qualms are both understandable and farsighted.
Photo credit: openDemocracy
All at sea
EUROPE thrashes around in ever-deeper waters as it tries to help Greece but it looks increasingly as though the country is drowning, not waving.  Worse still, it could still succeed in pulling its saviours under, too. "I fear the Greeks, even when they come bearing gifts," says Virgil's Aeneid. Two thousand years later when they come bearing nothing but debts they are feared even more.
Right of way
THE Human Rights Act is a constant thorn in Eurosceptic sides, doubtless because British judges take perverse pleasure in interpreting the Act far more bizarrely and meticulously than their European colleagues. Clearly everyone must be out of step but Britain because none of the 46 other signatories to the Act seems to encounter the same problems, or so regularly sacrifice commonsense to jurisprudence.