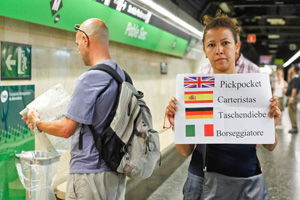 A 38-YEAR-OLD Colombian woman has been patrolling Barcelona Metro for the past three years to prevent pickpockets stealing from unsuspecting tourists. She carries a sign in several languages warning of the existence of pickpockets in the area and uses a whistle if she sees someone is about to become the victim of a robbery.
Eliana, a saleswoman, decided to do this after seeing a gang of women stealing the handbag of an elderly woman and throwing away the insulin she was carrying for her diabetes. She spends €80 per month on printing pamphlets to warn tourists that there are pickpockets in the underground stations.
Eliana claims she has got to know the thieves, as well as where they hide to avoid CCTV cameras, and has been offered up to €1,000 if she stops alerting people. Not only that, but she has been threatened, spat at and even attacked. Some days she prevents as many as five robberies and hands out 2,000 pamphlets.
However, she complains that the Metro security guards take them from her claiming it is against the law to hand them out and that there is a police campaign to prevent such crimes.
Photo credit: 20minutos.com Hugo Sanchez