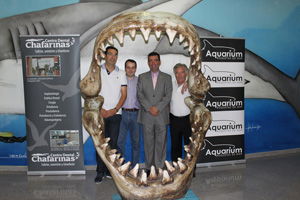 THE Mayor of Roquetas de Mar, Gabriel Amat, unveiled the huge jaw of a Megalodon at the Roquetas de Mar Aquarium. The aquarium director, Enrique Fernandez, accompanied the mayor at the event when the two-metre reproduction of the jaws was unveiled for visitors to see.
The megalodon is an extinct species of shark that lived roughly from 28 to 1.5 million years ago.
The director thanked the donors of the piece which gives the aquarium an added attraction at no extra cost, while he admitted that they were going through a "difficult period" financially.