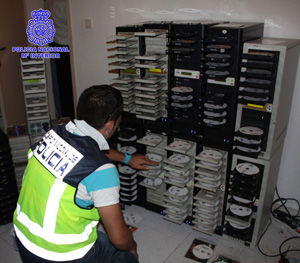 NATIONAL POLICE have dismantled a large-scale production centre for bootleg audiovisual material in an apartment in Madrid. The officers found 19 multi-copy devices with 203 slots which could produce thousands of copies per day which were distributed throughout Spain.
One person was arrested when leaving the property with 3,500 CDs and DVDs produced overnight. Another, who has been identified, was able to escape. Both were carrying large backpacks.
Production had increased ready for the summer months, and the police had located several individuals who not only sold the bootleg goods on the streets, but also produced them on a large scale.
Some 8,000 CDs and DVDs were seized, as well as 2,000 blank discs.