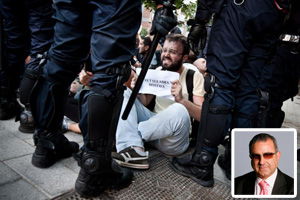 BLIND regional MP, Josep Maria Llop i Rigol, was no hero for standing up to protestors, he insisted. On their way to the Catalan parliament last week, Llop and his guide dog Annabel, accompanied by MP Jordi Turrull, were surrounded by Indignados (name given to protesters) intent on preventing a budget debate.
"We'll kill you!" shouted a demonstrator.  "Aren't you afraid?" The two men were pushed and jostled by the crowd who tried to confine them in a nearby doorway. They started to pull Annabel away from 48-year-old Llop but he grasped the dog's harness with all his might.
He later said in an interview with ABC newspaper that he told the Indignados they deserved no respect – not because he was blind but because their behaviour was more appropriate to a totalitarian regime. "Don't try saying you want a more democratic society when you limit other people's rights," he said.
It was at this point that things began to get nasty, he explained later, but he and Turrull managed to get away and were later escorted by police to the parliament building. He was surprised at the repercussions, he told his interviewer and admitted that at first he had not intended to tell his family about the incident. This  plan came to nothing, as both his wife and mother saw what had happened on the television news. 
Neither did he feel like a hero, Llop insisted.  "I don't want to be famous but I do want to defend in public the rights of any person – white, black or blind. "I'm just a small instrument at the service of the house of the people, the Catalan parliament," said Llop.
Photo credit: Jesus G. Pastor