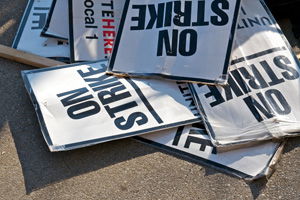 OH dear; here come the UK unions again. Once more these half dozen 'leaders' are attempting to show their members the reason they deserve their £90,000 a year wages. Which of course they don't.
IN my opinion all these people really want is to disrupt the country as much as possible. Once again they will re enact the antics of the loud mouth megaphone dictators of yore, who have as much place in modern society as the proverbial swimming pool droppings.
When they have completed their sneering left wing rhetoric and caused as much damage as possible, these hypocrites will no doubt slither back to their mansions and golf courses until they feel its time one again to re emerge and give their benefactors an excuse to keep them in employment.
These strikes they are calling for will achieve nothing but chaos, heartbreak and suffering. The fact that we are indeed living longer, the country is undoubtedly skint and severe policies are called for means nothing to these people.
Even if a couple of them could care less, they still live in the land of Alice, where its believed that if you can actually squeeze a stone long enough, blood will emerge. It is the policies of their own party that have caused all the problems the citizens of the UK now find themselves in.  These unions are of course perfectly aware of this and their main objective is actually to befuddle and antagonize the minions to such an extent they shift the blame on to the present government.
In the dark old days, when the working public were used and abused and worked for a pittance, the unions were their only hope and did indeed bring about a whole gambit of much needed change. Today they are nothing more than trouble makers and subversives of the left wing society.
To my mind they are traitors to the cause of democracy and should consequently receive the full force of the law on their heads. Is there another Thatcher out there? Somehow I doubt it. On a somewhat brighter note, this week I have great pleasure in offering many congratulations to my old friend Jess Conrad on the receipt of his O.B.E. Jess has worked tirelessly for a whole host of charities over many years. Indeed I have been with him on a number of these projects. The showbiz eleven football team, of which he is president, the extremely successful Robert Winsor charity golf tournament, to name but a couple. He has helped raise millions for those less fortunate and thoroughly deserves this wonderful recognition for his efforts. Well done ol mate. Who would have thought it all those years ago when we were 'hoofing' the halls? Will it one day be arise Sir Jess I ask myself? Ya just never know.  Keep the faith. Love Leapy. Leapylee.co.uk.