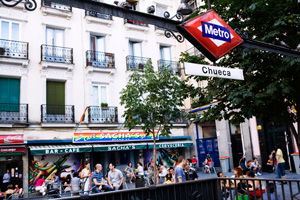 NOISE from Madrid's Gay Pride fiestas does not disturb a nearby residential home, claimed its manager, Consuelo Agreda. The home is 140 metres from the emblematic Plaza de Chueca in the heart of the city, and loud music so close nearby would breach by-laws on noise levels, the council recently claimed.
The news came as a blow to the organisers of the Gay Pride weekend that will be held from July 1 to 3 although they have been offered the alternative  plazas of Callao, España or María Soledad Torres Acosta (popularly known as Plaza de la Luna) for music events.
Changing the venue on the grounds that Chueca is close near to the Gravina care home for the elderly was meaningless, according to Consuelo Agreda who has written to the council, asking for it to change its mind. "The noise of the celebrations in the plaza doesn't bother staff or residents," she said.  "If it did, we would have done something about it by now."
Not only had the residents never complained in the past, but they positively liked going out and seeing the people enjoying themselves, said the Gravina manager. "In the six years I've been here, these celebrations have never been a nuisance.  This is an old building with thick walls and double glazing and it's well insulated from outside noise."
"We don't hear anything here.  If they want to remove Chueca from the Gay Pride scene, then that's what they should do but they shouldn't be using us as an excuse," argued Consuelo Agreda.