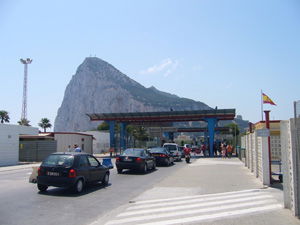 LA LINEA Town Hall has begun work to remove structures which had been put in place with views to charging a toll to anyone wanting to access Gibraltar via the town.
The new council, formed by PSOE, Izquierda Unida and Partido Andalucista, has undone what the former Partido Popular team and the former Mayor, Alejandro Sanchez, had put in place with the excuse that the constant passage of vehicles going to Gibraltar was causing financial losses to La Linea.
The new mayor, Gemma Araujo, accompanied by IU and PA councillors and 300 local residents, used the sledgehammer herself to knock down a curb which had been built to divert traffic. 
"Most locals were against the project" she said, "and this is not just a gesture to Gibraltar, but to the whole world, to show that dialogue is the only way ahead to obtain positive results for both parties". 
The President of the Association of Spanish Workers in Gibraltar, Salvador Molina, who was present, regretted that the association hadn't been formally invited as they were the first to protest against the plan.