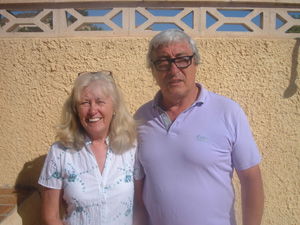 WHILE shopping is a joy for many, a British couple's visit to a Mojacar shopping centre ended in the loss of €570 thanks to 'bird droppings', naivety and the nimble fingers of a pick-pocket.
Rex and Christine Martin from East Sussex and in the early 60s have a holiday home near Vera. They were at Parque Commercial in Mojacar Playa when they noticed something white was dripping down Rex's shirt and trousers.
"I immediately thought an enormous bird must be to blame," said Rex, a retired chartered accountant. As they laughed about their predicament, a "thickset, short, 50-something-year-old man" approached them laughing and offered to take him to the washroom.
"He began rubbing my shirt and trousers with tissues, but I stopped him and called my wife in," Rex said. It soon became apparent that Christine also had the mysterious 'bird droppings' on her top, so Rex began cleaning her off.
"In hindsight, I am sure it was not there when she came in," said Rex. "The Hispanic looking man began to help me again for about 30 seconds before I stopped him." Shortly after the stranger left Rex noticed a piece of paper on the floor that he knew had been in his wallet which he kept in his trouser pocket.
When he checked it was still there, but about all the cash – about £150 (€170) and €400 – was gone. "Fortunately all my credit cards were still there. I rushed out after him, but by then he was gone." "After examining our clothes we suspect that the foul-looking mess was a liquidised mixture of peanut butter and broken biscuits and that our 'helpful friend' had a spray-can of it in his pocket."
They reported the matter to Local Police in Mojacar town as best they could in broken Spanish. "They gave us a copy of their report and told us to take it to the Guardia Civil in Garrucha, but when we did they told us that Mojacar Police was dealing with it," said Rex.
"We just want people to be warned that these things happen. Perhaps the town hall can put up public warning signs," said Rex. "It is amazing how common-sense goes down the tube when you think you are covered in poo," he added.
CAPTION: SCAMMED: Rex and Christine Martin
By Nicole Hallett