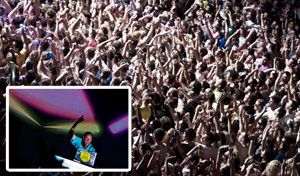 THE bare-footed Norman Cook a.k.a. Fat Boy Slim, Superstar DJ (but originally christened Quentin by his mum) took to the stage at Mallorca Rocks Hotel on Tuesday night and blew the excited crowd away.
The good natured throng received him rapturously. Playing to approximately 3,000 people, Fat Boy spun old favourites such as Praise You, and mixed in newer tracks and samples of other artists: Wonderwall from Oasis and Forget You, Cee Lo Green both drew huge roars from the audience.
"It is like being in the presence of a DJ God," said one avid fan. Support acts for the night were TEED, and resident DJs Doorly and Nicola Bear. Next up for the Magalluf hotel is the Friendfly Fires, Metronomy and Kissy Sellout on Tuesday June 28.
Photo credit: Phoenix Media