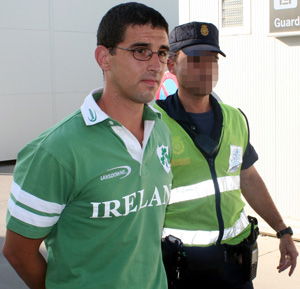 EIGHT years ago the resorts of Benidorm and Alicante were the targets of ETA bombings. Now Spain's National Court has condemned the perpetrator of the attacks, Jon Joseba Troitiño, to prison terms totalling 268 years.
Two hotels were attacked in 2003 and 14 persons injured in the blasts. The terrorist is the nephew of Anton Troitiño, the member of the terrorist group, 'K. Madrid', who was released last April after serving 24 years in prison. He is now missing and sought by the police after the High Court revoked his release.
Besides prison sentences, Jon Joseba Troitiño has been ordered to compensate more than €1.8m to the Interior Ministry, over €897,000 to the Insurance Compensation Consortium, and €624,000 to six officials of the National Police and seven other people wounded at the time in Benidorm.
A further penalty imposed by the court was that Troitiño cannot either reside in or even be present in either of these towns for 10 years after serving his prison sentences.
In the statement, the Criminal Division Court said it believed that the goal of the convicted terrorist and his accomplice, Asier Ezeiza, was "to kill law enforcement officers" as part of the summer campaign, in which the band set out to attack "hotels and commercial and tourist centres of the Mediterranean coast in the high season."
By Paul Deed