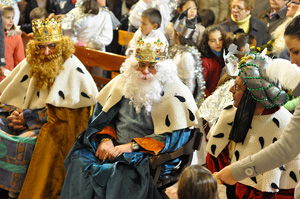 A MAN who took part in a procession of the 'Three Wise Men' is requesting €1.2 million compensation after being left in a wheelchair due to a fall during the celebration.
On January 6, 2006, he was playing the role of King Caspar in the procession in San Juan de Aznalfarache, Sevilla, when the float suffered an accident due to a cable which the local television station, owned by the town hall, had put across the street.
The plaintiff fell backwards, hitting his head and causing him brain damage which left him paraplegic. He was in hospital for almost one year and now needs an adapted car and home, and care around the clock. Although the procession was organized by a cultural association, he is suing the town hall because the floats had been lent by the council, the Local Police accompanied the procession and cable which caused the accident also belonged to the town hall.
He claims the floats were badly kept.
Photo credit: malojavio. El Saucejo