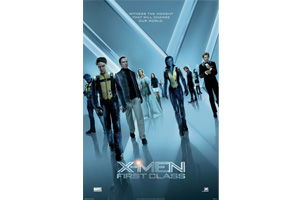 "X-Men: First Class" brings together the epic scale and action of a summer blockbuster with a character-driven story that unveils the beginning of the classic Marvel mythology which is the X-Men saga. It also reveals a secret history of the Cold War and shows our world on the brink of nuclear Armageddon.
Before Charles Xavier and Erik Lensherr took the names Professor X and Magneto, they were two young men discovering their powers for the first time. Before they were archenemies, they were closest of friends, working together with other Mutants (some familiar, some new), to stop the greatest threat the world has ever known. In the process, a rift between them opened, which began the eternal war between Magneto's Brotherhood and Professor X's X-Men.
As the first class discovers, harnesses and comes to terms with their formidable powers, alliances are formed that will shape the eternal war between the heroes and the villains of the X-Men universe.
Like all great X-men stories, this one takes on ambitious themes and issues while offering a rich and personal look at an unusual superhero team.
The film has a great pace and the characters are well-cast and do their roles justice. However, this is not the best of the X-Men films. It would have been if it had been the first film, but having seen the mastery of those which have been released before, it leaves fans feeling a little disappointed. However, this doesn't take away from the fact that it is very well made.
Film review by Gabrielle Devon