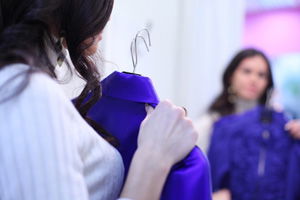 SPANISH clothes manufacturers are still not using universal patterns, despite a multimillion euro government project to standardise sizes. A nationwide official survey found that Spanish women's body shapes tended to be tubular, apple-shaped or pear-shaped.  Their average height was 1.62 metres with an average weight of 57 kilos.
Four years after the Health ministry initiative which also intended to address fears that the clothing industries' focus on small sizes encouraged eating disorders, little has changed. 
Stylish clothes with modern designs still start at a size 38 (equivalent to a British 8) and only occasionally are available in anything over a size 44 (size 14). But four years ago, retailers like the Corte Ingles pledged to banish 38s from window displays.
Manufacturers including Inditex – which owns the Zara and Massimo Dutti –  together with designers' and manufacturers' associations also agreed to cooperate. A 46 (16 equivalent) would no longer be regarded as "a special size", they promised. Not only has this not happened but despite Health Ministry hopes, sizing continues to vary from one label to another. One manufacturer's 36 can be another's 40 and sometimes a 44 bears the letter S for "Small" to persuade clients that they are slimmer than they are.
AngelAsensio, president of manufacturers' association FADECON, nevertheless believes that sizes are better regulated than before. The standard measurements now being used by the industry were revised following the results of the body survey, he claimed. But little could be done to standardise dress sizes unless agreement could be reached with manufacturers and designers throughout the EU, as happened some years ago with shoe sizes, Asensio said.