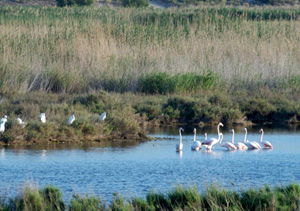 ON Friday evening whilst folk enjoyed the spectacle of the Moors and Christians in Mojacar, a small flock of Flamingos stopped for a quieter evening on the salinas behind Vera Playa.
This group of 10 mature birds spent the evening wading around and feeding before flying off on Saturday.
The sighting of these birds together with the recently seen endangered White Headed Duck on the salinas demonstrates the biodiversity that we enjoy in this region of Spain.
By Tony Unwin