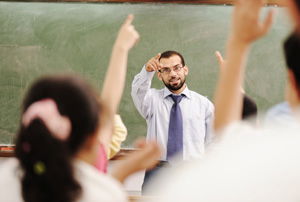 WITH local schools about to close for the summer (break out the Valium!) I thought it appropriate to include them in a few moans this week. Once again the British educational system is in disarray. Last week exam pupils received a set of questions with a choice of answers, none of which were actually correct! Is that a boggle up or what?
Every week some expert or another pops up with yet another solution to the problem. To my mind the only real answer is a reversion back to the highly successful post world WWII eras. At between the ages of four and five you went to mixed infants school.  At seven or eight you transferred to junior school, also mixed.  There you were groomed for the 11 plus exam.
Those who passed went on to Grammar schools, which ultimately offered the opportunity for you to enter university. Those who failed the exam, were given the chance of attending technical college for whatever skills they wished to pursue, or alternatively moved to senior schools where they left at 15 or 16 and went into normal jobs; many accepting the offers of apprenticeship in various occupations.
Wages were purposely very low in these positions, which of course allowed employers to afford to have you earn while you learned.
Also, if you wished, at senior school, you could often stay on for a further year and take your GCE's, a higher educational certificate, presenting a much wider selection of job opportunities. And that was that. It worked perfectly, until left wingers decided to 'improve 'it.
Now its complete chaos and they're all stumped! And of course the PC's are still walking tall among us. Last week, a head teacher reprimanded both pupils and parents for their offspring's playing 'gun games'.
Apparently, he objected to the children pointing there fingers and saying bang! Personally I can't remember a time in my childhood when hours of leisure weren't filled with Cowboys and Indians. 'Gotcha, you're dead' and the sound of your pistol or rifle, imitated faithfully through clenched jaws and tightly pursed lips, was a part of growing up. We saw no evil in it. All our 'victims', took part in the next game. 
And that's all they were; Innocent games of children, emulating their screen idols of a Saturday morning. I can't remember one of my particular posse ever turning into a mass murderer.  It is a society of violent computer games and the lax education system that has created these young psychopaths.
These human rights and PC do good bunglers are the true reasons our young are running riot. These people are now the victims of their own pathetic policies. Gawd. Will no one rid us of this troublesome bunch of self satisfied incompetent morons? Somehow the signs are not good.   
Keep the faith.  Love Leapy  leapylee.co.uk