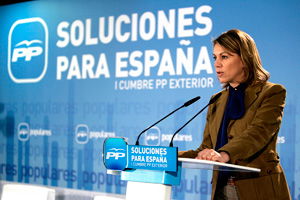 MARIA DOLORES DE COSPEDAL'S attendance at the Bilderberg conference augurs a PP victory in Spain's next general election. Only movers, shakers, the great and the good get to this shadowy annual get-together and the secretary general of the Partido Popular and president-elect of Castilla-La Mancha was among them. What is more, Bilderberg invited the 46-year-old Cospedal last February, two months before the PSOE socialists were routed in the local and regional elections.
Cospedal's star is undeniably in the ascendant but this was only her first Bilderberg meeting and it remains to be seen whether her presence proves to be a one-off.
When Bilderberg met between June 9 and 12 at St Moritz (Switzerland)  the habitual Spanish contingent included Cesar Alierta, president of Telefonica, Miguel Angel Moratinos, formerly Spain's Foreign minister, Cabinet Office minister Bernardino Leon, Juan Luis Cebrian, head of the Prisa media group and businessman Jose Manuel Entrecanales.  As so often in the past, Spain's Queen Sofia also attended.
International regulars included Henry Kissinger, Queen Beatrix of the Netherlands and David Rockefeller; Britain's Chancellor of the Exchequer, George Osborne, is another. There is no formal list of Bilderberg members, apart from a steering committee of representatives from some 18 countries. There is also a separate advisory group and membership of both tends to overlap.
Bilderberg was founded in 1954 by Prince Bernhard of the Netherlands, David Rockefeller, Polish politician Jozef Retinger and, strangely enough, Britain's own Denis Healey. The group subsequently took its name from at the Bilderberg Hotel near Arnhem in the Netherlands where the first meeting was held. There was concern at that time about growing anti-American feeling in Western Europe which the group hoped to counteract by bringing together financiers, industrialists, politicians, policy-makers and policy-formers.
Although attendees' names are not kept secret, meetings are closed to the public and the media. No press releases are made before, during or after the conference and in a media-led world this rankles. The terms did not exist in 1954 but Bilderberg is, and was, a brain-storming think-tank although it is precisely what attendees come up with that has been worrying conspiracy theorists for decades.
The mildest accusations identify the group as an invisible hand steering world events. The lunatic fringe places Bilderberg behind the Arab Spring and also believes that the group plans to take over the world, fix oil prices and start World War III in 2012. The theorists point out that the last two countries to host the conference were Greece and Spain.  Look at them now, they say darkly, although Switzerland, this year's host, does not appear particularly worried about the future. And by the end of her St Moritz break, neither did Dolores de Cospedal.