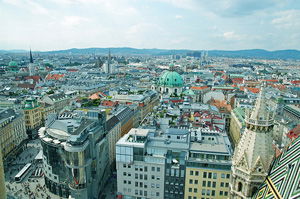 A 32-YEAR-OLD Spanish woman was arrested in Italy for her alleged involvement in a double manslaughter in Austria. A search and arrest warrant was issued against the woman, who is two months pregnant, after two bodies were found hidden in the basement of the ice-cream parlour she had run in Vienna.
One of them has been confirmed to be her 48-year-old ex-husband, who had been missing since November. He is said to have lent her more than €100,000 to set up her business approximately five years ago. The identity of the other body, which had been in the basement for much longer, is unknown, although it is believed to be that of a male and is suspected to be a German man who disappeared more than a year ago.
The detainee confessed he was her ex-boyfriend. The victims had been shot, cut into pieces and placed in fridges, then covered in cement. A wall had been built to conceal the bodies. They were found when work was being carried out in the basement due to a leaking pipe in a neighbouring hairdresser's. The workmen said the suspect came to see them several times while they were working. There were also two rifles with telescopic sights, a woman's handbag containing notes in Spanish, a mobile phone and a gun.
The woman was arrested at a train station in an Italian region which borders with Austria after police received a call from a young man who had offered her a place to stay. However, once he discovered her identity, the informer led the police to her. He claimed she had spoken of committing suicide.
The hairdresser next door saw her leave the ice-cream parlour after a client commented that the bodies had been found.
She had allegedly booked a flight to Barcelona, possibly to lead the police off her trail and emptied her bank accounts before disappearing.
She has now been sent to prison awaiting extradition to Austria.
In her confession to the police, the woman claimed to have been abused by the victims.
 By Jennifer Leighfield
Picture credit: himmelhoch