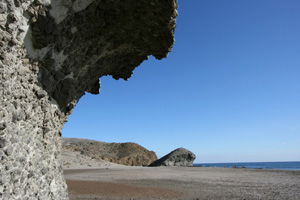 THE Junta de Andalucia and Nijar Town Hall are once again at odds over access to the Genoveses and Monsul beaches.
Since last year, Nijar Town Hall has been requesting a meeting with the Provincial Delegation of the Environmental Department to attempt to reach an agreement.
The town hall proposes controlling access to the beach by using a municipal bus service, which would not lead to problems with barriers or car parks.
However, the meeting never came, but the local bus company has sent them a letter showing that the Junta de Andalucia has assigned the service to them beginning on July 11 and ending on August 30, and asking for the town hall to fix the car parks.
The local mayor, Antonio Jesus Rodriguez, has complained that "the Junta de Andalucia has taken for granted that we will agree to what they have decided without consulting us. We don't know what the conditions of the service will be".
Last year, the town hall had an area available for parking, but this year, the owners of the plot will not lease it to them. Therefore, they will not be able to provide the car park as demanded by the Junta de Andalucia. However, the mayor says they will do everything possible because it is their duty to locals and tourists, but that it is "unfair" that they have been waiting all year for a meeting, and they are now facing the demands of the Junta
Residents in San Jose complained of the location of the car park. This reached the Environmental Council, who decided the responsibility was with the local town hall.
The mayor has also explained that he will demand an urgent meeting with the Environmental Council because they do not agree with the proposed dates, as the plan was to open the season on June 15 and end on September 15.