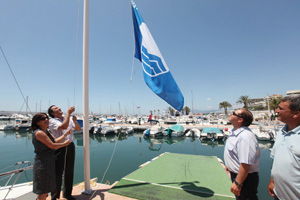 FOR two consecutive years Spain has been awarded with the most Blue Flags out of all 41 countries taking part in the programme. From a total of 3012 participating beaches, 511 in Spain have been given the eco award. Although the coastline has seen its fair share of commercial development, the beaches have been kept in top form with some 104 beaches in Valencia, 86 in Cataluña and 66 in Andalucia.
Each beach must adhere to strict environmental standards and be nominated by the local authorities for the certification. The country with the second highest amount of blue flags is Greece, with 387 and France behind with 327.
The Blue Flag programme is run by the non-profit, non-governmental Foundation for Environmental Education. The program sees many applicants each year and it's criteria for qualifying has become more and more rigorous over time.
This has seen some beaches in places such as Britain and Israel taken off the list.
The criteria each beach must follow is based upon Environmental Education and Information, Water Control, Environmental Management and Safety and Services.
Last year the EWN asked foreign visitors at a blue flag beach in the Costa del Sol what they thought of the programme and most admitted they didn't know it existed.
By James Euesden