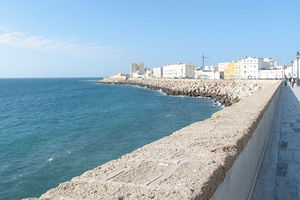 CADIZ could one day be engulfed by a 13-metre tsunami, warned an EU earthquake report. That Spain is at constant risk from earthquakes was made all too clear in Lorca (Murcia) on May 11 when 9 people lost their lives, 300 were injured and 1,700 buildings were damaged.
In the last 10 years Spain experienced approximately 70 earthquakes measuring between 1.5 and 4.30 and in the past year another were 27 classed as "significant" by the National Seismic Network.
The real danger to Spain lies in the sea, however, according to the EU survey, Tsunami Risk Assessment and Strategies for European Region (Transfer). There were three hotspots, they explained: the Gulf of Cadiz, the Balearics and the expanse of sea between Malaga and Alicante known as the Mar de Alboran.
The most dangerous was the Gulf of Cadiz. In 1755 a Scale 8 earthquake off Cabo San Vicente produced a tsunami which devastated Lisbon as well as Cadiz and Huelva, claiming a total of 15,000 victims. More recently a 6.1 earthquake in December 2001 was felt as far away as Madrid. The Transfer experts calculated that an 8.5 earthquake in the Gulf would produce waves between 6 and 13 metres high which would reach the Spanish and Portuguese coasts within 30 or 50 minutes.
More than 20 Cadiz districts would be affected, particularly the southern part of the city and all areas along the Cadiz and Huelva coast less than 10 metres above sea level would be flooded. In the Balearics, affected by the North Algeria Fault, a 7.3 marine earthquake would cause a tsunami with waves of between 3 and 4 metres. A Scale 6 or 7 earthquake off Carboneras (Almeria) or Alhama (Murcia) would produce 3-metre waves.
Spain does not have a tsunami alarm system, but earthquakes were not predictable, according to Jose Antonio Alvarez, Geodynamics Professor at the Complutense university and a member of the Transfer team.
"We can tell which faults cause them, but not when," he said.
Picture credit: juanpol