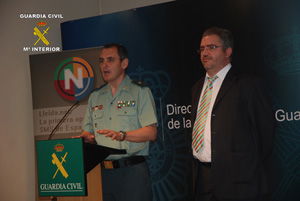 THE Guardia Civil have launched phone applications which allow users to report a crime via their mobile phones. The campaign 'A tu lado' (By your side) aims to bring the Guardia Civil within the reach of people of all ages thanks to making the force present on social networking sites and being able to contact them with internet-connected mobile phones.
Commander Juan Salom noted "people don't just connect to the internet on their computers anymore, but from anywhere they may be, and with this system they can report crimes they may see, receive news and locate the nearest station".
Anyone who sends a report, will receive a text message to confirm that it has been received which will be valid as legal proof.
For those who don't have such modern phones, they can make complaints from the website. Users can send a text message which is received as a PDF file by the Guardia Civil so it can be downloaded and printed. The sender then receives an e-mail which they can print and sign, which needs to be taken to the station to make it valid.
Photos can also be sent to the Guardia Civil.