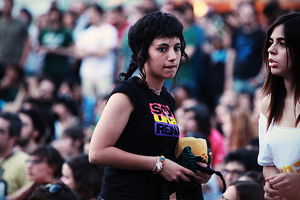 AT least 18 people were injured and five people arrested as anti-corruption protestors and Police clashed in Valencia on Thursday, according to El Pais. Demonstrators had gathered around the Valencia regional parliament building as new government officials, many of whom are facing corruption charges, were due to take office.
According to authorities, the demonstrators began the attacks when the Police moved in to try and isolate an "uncontrolled group of protestors" who started attacking them.
The 15-M movement denies the allegations however, insisting that it "has never attacked the Police" and put the blame on an anti-establishment group.
During the last month, tens of thousands of people have been protesting in the main Spanish cities demanding a reform of the country's democratic system.
At least 100 people were injured in Barcelona as Police tried to break-up protestors to end two weeks of demonstrations against austerity measures and high unemployment.
According to Police, they tried to dismantle the camp in Plaza Cataluña to allow cleaners access to the square, however, protestors refused to move, complaining they were being evicted.
Picture Credit: nicoframes