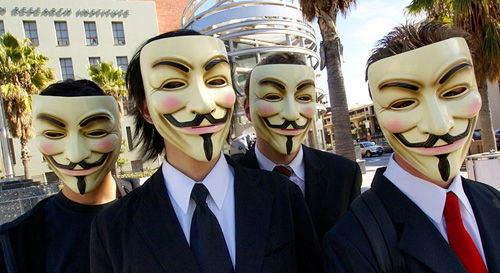 THREE leading hackers from the cyber criminal group "Anonymous" have been arrested by Spanish Police. The arrests took place in Barcelona, Valencia and Almeria Friday morning and a server hosted in Gijon was seized as part of the operation. The trio are suspected leaders in a key cell of the digital vigilante group that breaks into computers and systems online to pursue political activism.
Investigations into the group masterminding attacks from Spain on the Spanish Central Electoral Board as well as high profile attacks on Sony's Playstation store are still ongoing.
Police also suspect the group had involvement in the attacks against government websites in Egypt, Algeria and Libya.
Anonymous History
Anonymous first appeared around 2003 on the internet, representing the concept of many online community users simultaneously existing as an anarchic, digitized global brain.
In its earliest form a group of online users would act anonymously in a coordinated fashion, usually toward a loosely self-agreed agenda, but around 2008, the collective had become increasingly associated with collaborative international hacking efforts.
In response to harassment of file sharers they have directed attacks against the entertainment industry.
Operation Payback – Avenge Assange
The group also took exception to the withdrawal of payment facilities from the whistle blowing website WikiLeaks and started a campaign of attacks against financial institutions called Operation Payback – Avenge Assange.
Paypal and the Swiss Bank PostFinance suffered slow down's of their websites during attacks but Visa and Mastercards website's were brought down completely by dedicated denial of service attacks as a result of Operation Payback.
Picture Credit: Vincent Diamante