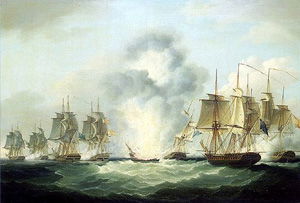 DEEP-SEA explorers Odyssey Marine Exploration is suing Spain over the ownership of 500,000 silver and gold coins, weighing 17 tons recovered from a sunken Spanish galleon. The Florida-based company has asked a federal appeals court to overturn an earlier ruling which determined the treasure, estimated at €355m, belonged to Spain.
They want the court to uphold the "finders keepers" rule that would give the treasure hunters the right to keep silver coins, copper ingots, gold cufflinks and other artifacts salvaged off the coast of Portugal in May 2007.
Spain's lawyers have contested that international treaty and maritime law obliges U.S. courts to uphold Spain's claim to the treasure.
The Nuestra Señora de las Mercedes, was sunk by British warships in the Atlantic in 1804 while sailing back from South America with more than 200 people on board.
After Odyssey flew the treasure back to Tampa, Spain went to the U.S. District Court to claim ownership.
A federal judge sided with Spain in 2009, accepting the Spanish government's argument that it never surrendered ownership of the ship and its contents.
The arguments now focus on whether the Mercedes was classified as a warship or merchant ship.
Odyssey's attorneys argue that if the vessel – located in a site codenamed 'Black Swan' by the company – was destroyed during commercial activity, Spain would have no firm claim to the property, while international treaties hold that warships sunk in battle are protected from treasure seekers.
However, Odyssey's lawyer, Melinda MacConnel, was asked why, if the ship wasn't designed for war, explorers also recovered ammunition, firearm remnants and about 18 cannons.
Meanwhile, the lawyer for Spain, James Goold, argued that U.S. courts have no right to intervene in the argument and urged the court to dismiss Odyssey's appeal and allow Spain's judges to settle the arguments.
Descendants of the ship's owners, crew and passengers also want a part of the treasure, as does Peru, which claims the gold and silver was minted in the country.
Twice in the months after the discovery, Guardia Civil seized Odyssey ships off the Spanish coast, although they and their crews were released within a week.
By Jennifer Leighfield
Photo credited to Odyssey Marine Exploration