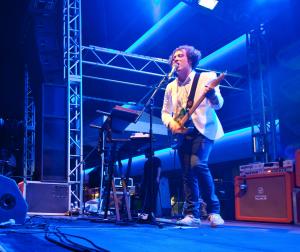 Not even the rain could dampen the spirits of the Mallorca Rocks audience on Tuesday night. An enthusiastic and well behaved crowd of tourists and residents gathered at the Magalluf venue to enjoy the headline band
The Wombats (pictured) and support act Brother. Both bands were very well received.
Next Tuesday June 14 Mallorca Rocks will welcome the DJ Zane Lowe playing high energy set, the hottest guitar band from the UK, The Vaccines for their Balearic debut and New Yorker Darwin Deez.
By Vicki McLeod
Photo credited to Oliver Neilson