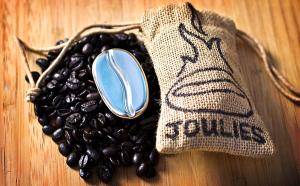 COFFEE JOULIES are metal beans that cool down beverages to a drinkable temperature faster and then maintains that temperature for longer than usual. The cool down phase is times faster than normal and it can be kept warm for up to five hours, if the hot beverage is in a thermos flask. In a standard kitchen mug Coffee Joulies only keep the drink at optimum temperature for a few minutes longer.
They do this by absorbing extra thermal energy in the drink when it is too hot.
Then that stored energy is released back into the drink to keep it at an optimum temperature.
Inside the bean's stainless steel shells is a 'special non-toxic material'.
"This material is designed to melt at 50 degrees Celsius and absorbs a lot of energy as it melts, allowing it too cool down faster" explained a spokesman.
"Once it reaches this temperature, the special material begins to solidify again, releasing the energy it stored when it melted, keeping the drink warm."