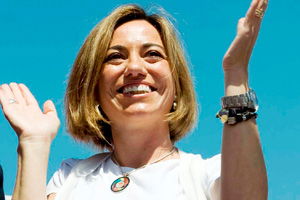 CARME CHACON, Spain's Defence Minister and possibly the best candidate to steer the devalued socialists through next year's general elections, withdrew from the PSOE primaries.  Clever woman: she can bide her time while whoever wins the next election gets defeated by cuts and crises.  If, as Harold Wilson once said, a week is a long time in politics, a legislation can be a short one.
Supply and demand
THE food supply system needs overhauling warned Oxfam, which predicted social unrest for the future as staples become scarcer and more expensive.  If that unrest should occur, then every other system – political, economic and social – would need overhauling, too.  Something is globally wrong when one half of the world faces death through obesity and the other half through malnutrition.  Especially when millions already starve as crops are turned into biofuels so the affluent are spared the bother of walking.
Hacking down hackers
CYBER attacks could be classified by the Pentagon as acts of war, enabling military commanders to retaliate with military strikes against hackers who are backed by "hostile foreign powers."  If the new diktat cuts both ways, would Iran be entitled to launch an attack against whoever unleashed the Stuxnet virus on computers at its nuclear sites?  Will Gary McKinnon end up in Guantanamo?