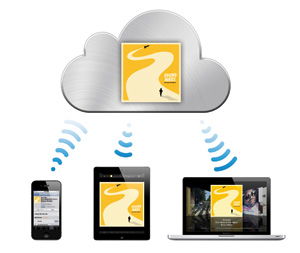 During the Worldwide Developers Conference (WWDC) Apple shared some new information on the all new iCloud. Their vision is in the direction of the 'post-PC era', where iPads and iPhones are the big thing, gradually becoming used more often than desktops in many businesses and homes.
In the past these products suffered from having to be connected to be synced and made the process of ensuring all of your devices were up to date quite a tedious one. Some data you may want on your iPhone, PC and iPad would need to be physically synced using wires and could become time consuming.
Ever having the consumer in mind, what Apple is attempting to do is eliminate the middle man. iCloud allows users to sync all devices at all times via wireless to keep them up to date on contacts, mails, calendar events and files.
All these files are backed up to iCloud which includes 5GB of free storage for users and iPhones/iPads will automatically update when new software is released.
This is a step in the right direction toward making homes and offices more wireless and mobile but it brings in concerns about having so much sensitive information and file back-ups flying around the airwaves, so it remains to be seen how it will play out in real life.
It might not turn out to be as revolutionary as Apple hope, like with MobileMe, or it could be a jump into the future for mobile businesses that is much needed.