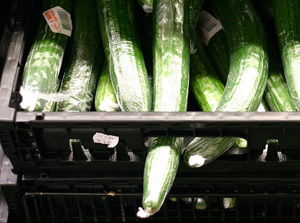 BREAKING NEWS: German scientists have revealed that the bacteria found in Spanish cucumbers did not cause the E.Coli outbreak in Northern Germany. This was revealed by Hamburg Health Minister Cornelia Prufer-Storcks. The Spanish government did not rule out a call for compensation from Germany for the "tremendous damage" that "speculations" had inflicted on Spain's agriculture and food sector.
Laboratory tests in Germany last week pinpointed the cucumbers as the focus of infection, although the Spanish health authorities claimed that the vegetables could have been contaminated in transit or on arrival.
Almeria exporters complain that cucumber sales are down 100 per cent and lorry-loads are being sent back. The ban on produce exports is leading to losses of up to €200m per week.
The Environmental Minister, Rosa Aguilar, has asked the EU to intervene in the matter.
Meanwhile, German company Lidl has stopped selling cucumbers in its shops, wherever they come from.
Picture Credit: Kolya