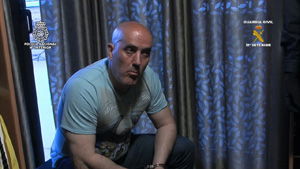 NOTORIOUS career criminal Angel Suarez Flores, nicknamed "Casper", was arrested in Madrid on May 12. Suarez Flores, a 50-year-old father of three, was born in Buniel (Burgos) but grew up in Belgium where he is still wanted on drugs' charges. Twenty-one associates of different nationalities were also taken into custody, not only in Madrid and Barcelona but throughout Spain, including Malaga, Torrevieja (Alicante) and Gandia (Valencia).
Nothing if not versatile, Suarez Flores headed a team specialising in abduction, extortion, drugs dealing and money laundering. They were also expert robbers, frequently breaking through walls or ceilings to reach a target, hence the Casper nickname.
Already well-known to the police, Casper became a household name when he was jailed for 9 months after stealing 19 pictures – one a Goya worth €12 million – from the Madrid home of Esther Koplowitz, Spain's wealthiest woman, in 2001.
In June 2009, police discovered that Angel Suarez Flores and his followers were now focusing elsewhere. Rather than entering a dormant period with fewer robberies, the gang was stealing drugs shipments from other criminals before they could take delivery.
They used highly sophisticated equipment, admitted a rueful Andres Dieguez, head of the central organised crime unit, but Casper and his men would nonetheless travel 600 kilometres for a 10-minute, face-to-face conversation.
Business was never discussed over the telephone and mobile numbers changed every three days, Dieguez said.
Neither did the gang shun low-tech torture when, in late December 2009, the Suarez Flores concern decamped en masse to Andalucia.
They were keeping a close watch on the Algeciras docks (Cadiz) where another drugs ring intended to pick up a shipment of cocaine camouflaged in a container-load of wood from Costa Rica.
After several days' surveillance they abducted a dispatcher working for the container firm, and took him to premises they had rented on the Cortijo Real industrial estate.
Here they threatened and tortured him, cutting off one of his toes with an axe to force him into revealing where to find the container. Ironically, Suarez Flores and his men failed to locate the drugs despite the dispatcher's reluctant input.
By now, police were on Suarz Flores' trail and he was arrested last August but released for lack of evidence. Later he was held responsible for the disappearance of 2,000 kilos of cocaine from Alicante docks that October.
Nevertheless the gang were by now under constant police surveillance and their days were numbered.
"Either I'll be a multimillionaire or I'm going to prison for a long time," he confided in a bugged conversation at the Madrid gym where he worked out each day.
By Annie Maples