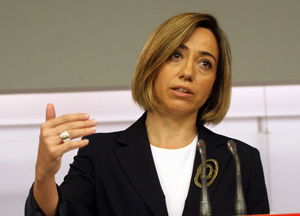 SPAIN'S Defence Minister Carme Chacon will not run to head the PSOE socialist party at the primaries where PM Jose Luis Rodriguez Zapatero's replacement will be chosen. This was confirmed by Chacon today at a press conference in Madrid.
"I must take a step back so that the PSOE can take one forward," she said after admitting that she had originally planned to run for election, but believes if she does it given the political climate it would put the "PSOE's, the president's and Government's" stability at risk.
Chacon was pitted as second favourite to lead the PSEO after Interior Minister Alfredo Perez Rubalcaba which remains Zapatero's most likely successor.